Since WandaVision has been released, it's become my favorite show in 2021, pulling off the look of Wanda Maximoff will require representation of her well designed costume.How do I dress like Wanda Maximoff? In our cosplay guide, we will certainly offer all the things you need to develop an replica version of the Scarlet Witch costume for your next Halloween events or comic party.
Part of the fun of "WandaVision" is how the show has used its sitcom-inspired plot to go extremely meta. We'd already seen a bunch of promos of Wanda and Vision in those costumes, so we knew it was coming, but it wasn't until now that we knew just how fully the show would embrace those looks. Today ACcosplay will bring the complete guide of dress like Wanda Maximoff. Are you ready? Please keep reading.
How do I dress like Wanda Maximoff? | Wandavision Costumes
1. Captain America 3 Scarlet Witch Cosplay Costume Wanda Maximoff Red Leather Jacket Outfit
This coat is one of one of the most popular and also traditional Scarlet Witch costumes. Composed of quality washed leather,Faux velvet and Spandex which scarlet witch cosplay provides a beaming and also awesome look,including Jacket, Vest, Pants, Gloves, Shoe Cover. The gorgeous hot red shade makes it a style statement,forming the Scarlet Witch cosplay costume a great as well as stylish appearance.
 2. Wanda Halloween Costume
Impressively, WandaVision uses its special holiday episode to its advantage, creatively incorporating versions of superhero costumes that may not have translated to the MCU's style otherwise. The low-budget costumes lend perfectly to the episode's humorous and over-the-top tone during its lighter moments. The appropriately named "All-New Halloween Spooktacular" saw Wanda and her family trick-or-treating in some amusing knock-offs of some very familiar outfits.
Style 1 Cotto Fabric
Buy Now  Only $59.99
Style 2 Leather Fabric
Buy Now Only $70.99
Wanda explains her red outfit away as a Sokovian fortune teller, and Vision's colorful costume is said to depict either a booger (if you ask Pietro) or a luchado. However, it's good to remember that WandaVision is a show in which every single minute detail means something, from individual characters to musical choices. You didn't really think the Halloween costumes would slip into the episode without some added layers of subtext, did you?
Every good sitcom has a Halloween episode, and that's exactly what WandaVision viewers are treated to this week. Most series make use of the requisite costumes and parties to have a laugh and provide some insight into their popular characters. But characters in sitcoms often dress up as superheroes, which presents both a challenge and an opportunity for a show set in the Marvel Cinematic Universe. 
 3. Avengers 2 Age of Ultron Scarlet Witch Costume
If you are the Avengers 2's fans,I belive you know the Scarlet Witch costume, In an attempt to make your Age of Ultron cosplay easier,ACcoplay offer Witch Wanda Maximoff posts into one central labelled location. Although it has been many years, Wanda costume has been in fans's memory,it never out of fashion.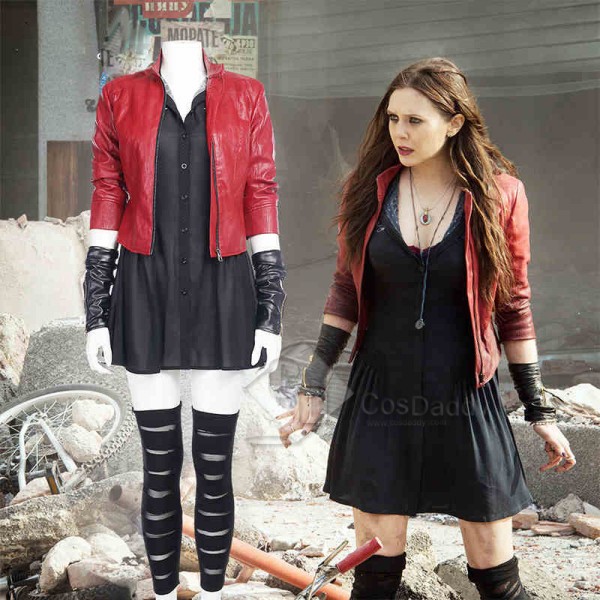 Next was Vision, who wore his classic green/yellow spandex suit and gloves, complete with a diamond emblem on his chest and a slightly different emblem on his forehead (where the Mind Stone was placed in the MCU version). On the show however, the getup was explained as Vision's Luchador Halloween costume; though Vision also indicated that Wanda — or whatever it is controlling Westview — had magically left him no other option but that costume.
Vision Costume
Style 1
Style 2
No matter which version you choose, you will stand out on Halloween or Party event.
Next we will show you our next production plan, if you like, you can contact us so that you can get the favorite costume first.
Darcy Costume
The final wanda costume suit
Quicksilver Costume
Agatha Costume
If you have other charcter want to achieve your dream,feel free to contact us at any time. Provide your creative ideas,you will give a special offer to get discounts to help you to save money.
Everyone who likes the most interesting characters in the Marvel Comics nowadays does not fail to get impressed with this character. They think smart while choosing the cosplay character and explore everything about the costumes and accessories of this character. This is because they like to be comfortable and happy when they resemble the superhero character in the cosplay party.  ACcosplay have the best-in-class nature of affordable cosplay costumes in different categories especially Scarlet Witch cosplay costumes and offer some other wandavision costumes for you. You can visit ACcosplay and buy the appropriate cosplay costumes within your budget.