Whether you're jumping onboard the inclusivity train presented by Raya and the Last Dragon, or are a skeptic at Disney's depiction of Southeast Asian cultures by quite literally blending them together into one fictional creation, viewers and fans can't get enough of it. As for Raya costume, we fall in love with it at first glance. In today's cosplay guide, we'll show you one of the best cosplay ideas you love. Get ready?
Raya And The Last Dragon Costume
Raya And The Last Dragon follows the fictional world of Kumandra, which is split into five different tribes. 500 years before the events in the movie, dragons roamed the world until they sacrificed themselves to save humanity from monsters known as the Druun. When those deadly creatures return, it's up to Raya to locate the last surviving dragon, Sisu. In a search for the magic capable of saving Kumandra, Raya encounters compelling figures from tribes she once viewed as enemies. By incorporating an immense amount of emotional weight on the core figures, the outcome of events develops an even greater meaning. That's why the whole movie is fascinating and we fall in love with this new Disney princess and cosplay Raya one after another. Next, we will introduce you the most authentic and complete Raya costume to replicate her signature look. Keep scrolling down!
Raya Costume Display  
Raya costume is one of the highlights in the movie. Adults and kids they all adore this cute and brave heroine. The costume worn in the movie is heavily based on the traditional Cambodian dress called sampot represents Southeast Asia culture. Our Raya costume restores the original look that you are looking for, one of best women's Halloween costumes you must have if you want to look unique at the party.
Customer Reviews On Raya Costume
Everything about it was great! I purchased full set costume with hat and shoes. Great quality and super comfy!- Audrey
I'm so happy to finally have this one as it's been on the cos plans for a while. Can't wait to wear it eventually!- Lyra
I absolutely love it. Best cosplay costume ever. Especially love this cape! Bright red and is soft not itchy. Great value for this quality!- Heather
Details Of Raya Costume
The Raya costume has all the pieces you need, including top, vest, pants, cape, belt, wristbands, hand wear, hat, accessories and shoes. Everything is made of first class quality material mainly include knitted fabric, renoir fabric, composite fabric and fur.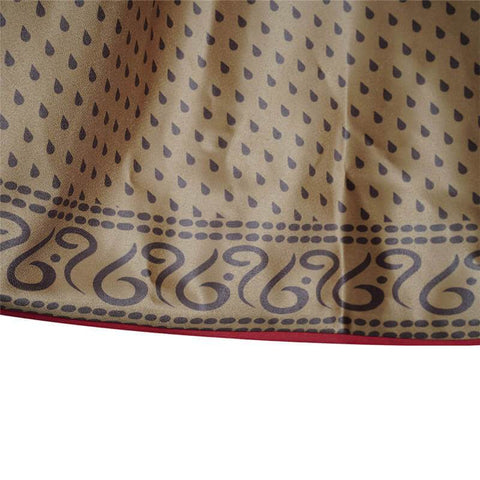 The cape is the most attractive item for a warrior. It consists of a velcro easy for tie up. The collar of the cape has exquisite embroidery, the hem has high definition printing, the lining is double-layered design.
The pants has high grade texture and patterns, contains meticulous cutting, neat stitching and exquisite sewing. The fabric is elastic, breathable and comfy.
The belt is made of superior soft leather fabric, excellent in workmanship and accurate in details. It has velcro for fastening to improve the beauty of overall look.
The wristband is two-tone retro style, carefully sewed with no loose thread and feels smooth and stretchy.
Our Raya costume is also available for kids if you are searching kids Halloween costumes for your little angels. Let your young warriors discover their inner strengths while they enjoy the ultimate role play adventure with this Raya costume. The outfit is identical to Raya And The Last Dragon costume in the movie, and is sure to help drive imaginations and encourage boldness.
Need more lovely Halloween costume ideas? If you are anime cosplay lovers, then you must watch out! We provide the greatest collection of popular Demon Slayer cosplay, Danganronpa cosplay, and My Hero Academia cosplay.
What Is The Best Cosplay Store To Buy Raya Costume?
Do you love the Raya costume displayed above? Now here comes the question- what is the best cosplay store to buy Raya costume? ACcosplay is the right choice for you. If you want to get more deals and promotions, you can check here:
HOT SALE cosplay costumes➤ 
ACcosplay Easter Day 2021 Big Sale: What Easter Costume To Wear➤