Mighty Morphin Power Rangers: Once & Always, The American version of the Power Rangers series movie is scheduled to be released in April of 2023, Do you expect it?
Someone might think the movie will be disappointing at the box office, as the pot is more terrible than the Japanese version. however, the movie reminds our fans of fabulous memories of love for watching the Power Rangers on TV.
Except for new stories, each series also has new costume. Next, I will take you back to the classic Power Rangers costumes. If you are looking for Power Rangers cosplay, here you are in the right spot. we provide you with the best Power Rangers costume ideas for your next cosplay convention.
1. Power Rangers Red Ranger Costume
Red Ranger is the leader of the Kyoryu Sentai Zyuranger and is good at swordsmanship. He is a warm-blooded young man with a strong sense of justice, and he fights all of the battles by relying on his wit, agility, strength, and will.
The colors of Power Rangers costumes are bold and bright, Red ranger costume is accented in red everywhere along with a diamond pattern on the breast.
Character: Geki
Code name: Red Ranger
Represent: Tyrannosaurus Ranger
Costume Material: polyester fibre
Costume Content: Jumpsuit, Mask
2. Power Rangers Black Ranger Costume
Black Ranger is the oldest deputy leader of the soldiers, and represents wisdom. he is calm and calm, mature and prudent. He is good at attacking with an axe, and has rich experience in facing emergencies.
Just like many kids who loved watching the Power Rangers series TV/movie, they have wanted to be a Power Ranger at some point. here are adult and kids Power Rangers costumes for you to select.
Character: Goushi
Code name: Black Ranger
Represent: Mammothus Ranger
Costume Material: soft polyester fiber
Costume Content: Jumpsuit, Mask
3. Power Rangers Yellow Ranger Costume
Yellow Ranger is the youngest member of the Ranger team, he represents hope. He has specialized research on ninja and is good at using two short swords. He can use separation skills when dealing with the enemy.
Who doesn't want to get the Mighty Morphin Power Rangers costumes? all of the season 1 costumes must be classic. keep original design aesthetics, we updated the Power Rangers costumes which are made of the soft lycra and spandex.
Character: Boy
Code name: Yellow Ranger
Represent: Saber Tiger Ranger
Costume Material: soft Lycra
Costume Content: Jumpsuit, Mask
4. Power Rangers Blue Ranger Costume
Blue Ranger is a young warrior, he represents courage.  He is good at shooting with a long gun. but he has less experience in combat, Sometimes his reckless actions often cause trouble to other teammates.
The helmet of every Power Rangers costume is unique, the detail on the blue ranger was made to look like a tiger. and The diamonds across the chest and boots are the same as other rangers along with the belt. if you are looking for a superhero costume, a Power Rangers costume should be on your plan.
Character: Dan
Code name: Blue Ranger
Represent: Triceratops Ranger
Costume Material: soft Lycra
Costume Content: Jumpsuit, Mask
5. Power Rangers Pink Ranger Costume
Pink Ranger is a princess of the Lycian race, and the only female member of the Ranger team. She is good at bow and arrow, She will never let the evil Pandora destroy everything that the earth has. She is also a lovely dresser, She can change different roles to attract different enemies.
The Pink Ranger suit is more shapely among the Power Rangers costumes. it includes a subtle skirt, and her helmet is designed to be gigantic insect head style, the contrast of pink and white makes it more attractive. if you love the pink ranger character, why not try? let's go into the theme of the cosplay convention.
Character: Mei
Code name: Pink Ranger
Represent: Ptera Ranger
Costume Material: soft Spandex, Lycra
Costume Content: Jumpsuit, Mask
6. Power Rangers Green Ranger Costume
Green Ranger is the elder brother of Geki,  the first official sixth soldier in the history of the Power Ranger. He was touched by Red Ranger with sincerity, and then changed his ways and joined the team to fight against Pandora. Finally, in order to protect the next generation and defend justice, he fought to the last moment and entrusted his armor and beast-playing sword to Geki before he died.
Different from other power rangers costumes, Green Ranger wears a vest-like mantle, and the texture looks like bamboo which lines up with the chest emblem. 4 stars shine on the diamond pattern of the chest. this definitely makes it look so cool.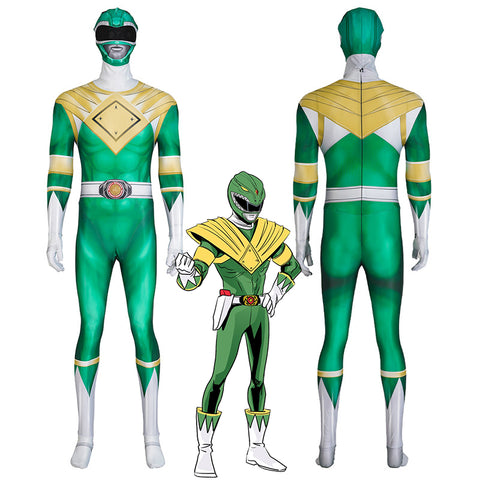 Character: Burai
Code name: Green Ranger
Represent: Dragon Ranger
Costume Material: soft Spandex, Lycra
Costume Content: Jumpsuit, Mask
Power Rangers Hoodie:
Where to buy the best Power Rangers costumes?
Do you love the Power Rangers costume displayed above? many fans are crazy about these new team costumes when they watch the Power Rangers TV. Easter Day is coming, do you want to look special at your cosplay convention? just take it and you'll get the power, you can find more series costumes on accosplay.com as well.
No matter which Power Rangers Costume you will put on, we hope you have a super Mighty Morphin time! if you are cosplaying as a power ranger, share photos with us and then we can show you to the Power Rangers fans.