The first Barbie doll was born on March 9, 1959. later on, Barbie dolls were produced to be many kinds of the professional image. 2023 Barbie live-action movie will be released this month, when pictures of Robbie as Barbie who is clad in an all-hot pink Barbie cowgirl outfit were published, her look get sparked on the internet, and many people were wearing pink costumes, it seems to be approved for the pink style.
Barbiecore trend will continue for the next half year, Are you ready to follow Barbie Pink trend by dressing up with Barbie movie outfits for this Halloween season? go ahead, we will show you some of Barbie movie outfits.
1. Barbie Cowgirl Outfit
Style 1
Style 2
From the movie to the fashion show, Barbie fashion style appearance on worldwide, and the designer didn't expect that the Barbie doll will influence the 2023 fashion design trends one day.  President Barbie outfit is combined with cow and pink, a pink vest, and long pink high-waisted bell bottom jeans matching a white cowgirl hat and a pink scarf, then the fashion look came out. if you are ready to be the head Barbie this Halloween, a Barbie cowgirl outfit should be your first choice.
2. Ken Outfit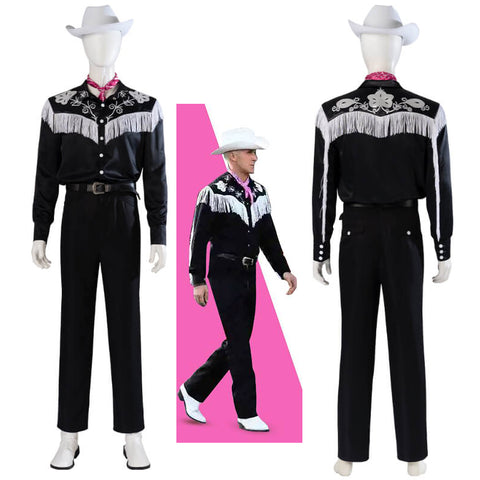 Barbie and Ken Western outfits were found at a convenience store, Ken has a black look, he wears a black long-sleeve shirt decorated with white flowers and white fringe, black pants with a black belt, matching with a white cowboy hat and shoes. a pink bandana was used for coordinating with his girlfriend's look, adding a pink Barbie fashion ensemble. If you're going to dress up like a couple with someone this Halloween, Ken outfit will help you complete the look you want.
Kids Ken Outfit
3. Barbie&Ken Staking Outfit
Barbie Skating Outfit
Ken Skating Outfit
Barbie and Ken rollerblading look was exposed during the 2022 Barbie filming in Venice Beach. Barie and Ken sportswear is similar to 1994 Barbie doll skating appearance. If you wear Barbie sportswear, You will become the brightest person on the sports field.
4. Barbie Princess Charm Shool Uniform
Sophia School Uniform
Delancy Devin School Uniform
The two costumes are from a 2011 computer-animated fantasy film called Barbie: Princess Charm School. Princess Sophia is kind, clever, and diligent, she wears a red Barbie Princess Charm School uniform. Delancy Devin is a student at Princess Charm School, her outfit is designed to be a white shirt and pink strips skirt with a blue waistcoat. If you want to be someone like a younger student this Halloween, then you can check out this simple look.
5. Barbie Jumpsuit
Barbie Slive Sequin Jumpsuit
At Barbie's house party, she wears a Barbie slive sequin jumpsuit as she dances to the song Dance the Night. Gerwing said she gets inspired from the Discos music, so we can see Barbie's silve sequin outfit that is confluent with rock and metal style.
Barbie Pink Jumpsuit
Barbie changed her look when she stay with he sisters, we can see she got a causal look, a pink long-sleeved jumpsuit, a detail on her back waist tied with a bow, a pink sash on her shoulder bearing President title in the Barbie font. this pink Barbie jumpsuit is suitable for your team performance show this Halloween.
6. Barbie Swimsuit
Do you remember the Barbie doll in 1959, who wearing a bikini with black and white stripes? in the movie, the designer infused the doll looks into the leading role of the movie Barbie who stands in her classic bathing suit, showing her sexy body.
 Barbie Classic Pink Swimsuit

7. Barbie Dress
When Barbie sees Barbieland at the first time and waves good morning to him, she wears a long Barbie pink plaid dress, matching with a pink hairbow and a pair of pink heels, which show her smart and lively. her life is always coming with pink, pink convertible, pink house.
The Barbie pink plaid beach dress appeared in the second trailer, the dress comes with a pink plaid hat and a necklace decorated with 3 pink seashells. you can also dress up like Barbie, wearing a pink dress, enjoying the beach and ocean wind.
Barbie Blue Dress
8. Ken Beach Outfit
Style 1
Style 2
Style 3
In the second Barbie trailer, we can see actors wearing colorful Havivian beach outfits, Ken has a short shirt and shorts all printed with the pink and green striped shirt, looks great, which set off against the blue sky and yellow beach. Ken beach outfit is perfect for your beach outing.
Above all are iconic Barbie looks, barbie cowgirl outfit is one of the most popular, which one will you select to wear for your Halloween next half year? when the Barbie movie premieres, we believe there are many fans coming with Barbie movie outfits, it is hard to reject being a fashionable, joyful cowgirl.
Now come on, Barbie girls, let's go party wearing Barbie movie outfits!