Christmas is around the corner, everyone starts making plans for Christmas. No matter you are going to do, the most important thing is wearing Christmas costumes to show the best side of you to welcome the new year's coming. In today's article, we carefully selected out 10 best Christmas costumes for adults and Christmas costumes for kids. Keep reading to see what surprise we have prepared for you!
What Can You Get From ACcosplay Christmas Sale?
Over $49 Get 5% Off, Code: CHR5
Over $89 Get 8% Off, Code: CHR8
Over $109 Get 10% Off, Code: CHR10
Looking for best cosplay costumes that are great for Christmas? We have Nightmare Before Christmas costumes and more easy cosplay ideas. Keep scrolling down to find out!
Christmas Costumes For Adults
The Grinch Hoodie
Impressed with the Christmas fantasy comedy The Grinch? Want the cute Grinch to accompany you on Christmas? The Grinch hoodie has different Grinch patterns vividly printed on, never fade away. Unisex, easy cosplay ideas of Christmas costumes for adults.
Jack Skellington Costume
Jack Skellington has been a popular design on various items after the film The Nightmare Before Christmas came out in 1993, and The Nightmare Before Christmas costumes become hot sell Christmas costumes for adults every year with Christmas' upcoming. This Jack Skellington costume includes pin-striped coat, pants and a bow tie resembles a bat.
Doctor Who Coat
It's getting colder during Christmas. What are best Christmas costumes for adults to keep you warm while making you stay gorgeous? All of these Doctor Who coat are not only stylish, but also functional as well. Easy cosplay ideas you need for winter.
                                          12th Doctor Coat

                                        13th Doctor Coat

                                         11th Doctor Coat
                                           4th Doctor Coat
Slytherin Robe
Harry Potter robe is considered to be the symbol of magic. This Slytherin robe is one of the best cosplay ideas you are Harry Potter fans looking for Christmas costumes for adults. Full set Slytherin robe costume comes with sweater, shirt, pants and tie. Made of knit, cotton and uniform cloth.
Hocus Pocus Dress
Attending Christmas party wearing dress will always enhance your charm and make you stand out. Hocus Pocus dress is absolutely wonderful Christmas costumes for adults to match with Christmas vibe. Unique medieval dress design, hugs your body curve perfectly, smooth stretchy satin fabric.  
                          Winifred Sanderson Cosplay Costume 
                              Sarah Sanderson Cosplay Costume
Christmas Costumes For Kids
The Grinch Costume
The Christmas fantasy comedy The Grinch brought kids a lot fun and the green little Grinch has won kids love. The Grinch costume has various styles, the Grinch hoodie, the Grinch jumpsuit, etc. These Christmas costumes for kids are easy cosplay ideas to entertain kids.
Historical Figure Costume
On Christmas, everyone is looking forward to a brand new future. While this time we also review the past and remember those great historical figure. Which historical figure dose your kid admire? These historical figure costumes are high-tech 3D printed, best Christmas costumes for kids and easy cosplay ideas.
Doctor Who Coat
Doctor Who has developed into popular culture, and even kids are deeply influenced by the different Doctors. Doctor Who costume can't be missed among Christmas costumes for kids. The fabric are thick to keep your kids warm while enjoying being 10th Doctor or fourth Doctor companion Romana.
                                            10th Doctor Coat
                                   Doctor Who Romana Coat
Reindeer Jumpsuit
Christmas costumes for kids with cute animal is always attractive for your little lovely angels. If you need Christmas family costumes, the reindeer jumpsuit can be made Christmas costumes for adults as well, one of easy cosplay ideas you can choose to become an adorable family.
                                           Reindeer Jumpsuit
Features Of ACcosplay Costume
1. Made of smooth, stretchy fabric with good breathability
2. Lower competitive price 
3. Various types range from styles, colors and patterns
4. Fast shipping and delivery on time
5. Great customers service
6. Friendly ruturn/refund/exchange policy
7. Customize costumes are accepted
Conclusion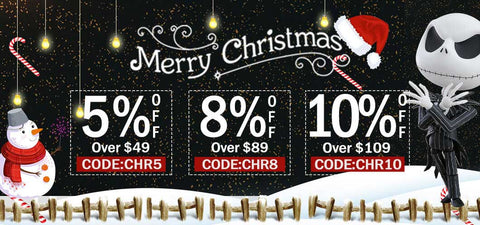 What Christmas costumes from the above do you fancy? If you didn't find any from the listed Christmas costumes for adults or Christmas costumes for kids, please feel free to visit accosplay.com and you'll absolutely find your ideal cosplay costumes to get a great look for the new year. If you have better cosplay ideas, you're always welcome to leave us comments. Wish you all a merry Christmas!