It has been almost a month since the 2021 Disney movie Cruella is released. I believe everyone is attracted by Cruella's fashionable and cool costumes,even feels crazy about it.Which one of the Cruella Deville costume adults do you like best?We will recommend ten sets of sexy Cruella Deville costumes that are most worthy of evaluation and collection here.
Keep reading, you will have unexpected gains for Cruella Deville Halloween costume, and it can be said that it will be your inspiration for your next outfit.
This is the first time the heroine attends the Baroness's ball as Cruella Devil. The way that the beautifully carved red dress is exposed after the white robe burning is amazing, like the phoenix nirvana. The super-complex dark red dress she wore was simply stunning. The most important thing is that Cruella De Vil Red Dress was inspired by one of the skirts of Charles James in the 1950s, The chest of Flame skirt has added the details of tearing, which has the punk fashion of Vivienne Westwood. 
This sexy Cruella Deville costume is the hottest selling cosplay costume in the Cruella De Vil costume series of our shop. Many people think it is very suitable for collection and use in role-playing activities. Afterward, classic costumes are never out of date.
This red dress makes extensive use of Satin, four-way stretch, pearl chiffon, and organza fabrics. The production process is extremely complicated. The tail of the dress is shaped with a circular steel ring, and it is really beautiful with your own high heels. For the sake of beauty, it is not an exaggeration to spend time and money waiting for the arrival of this dress. 
Cruella De Vil Red Dress from ACcosplay Including:
Dress, gloves, wig(extra option), eye mask
 2.Cruella 2021 Dress
This scene appeared in the movie for 3 seconds, but it is also worth remembering. Cruella wears a silk scarf, giving her a more mature and refined look. a classic LV black bag slung around the waist, which puts on the touches to her look.wearing a silky texture and a slightly elegant printed dress, The overall shape is very coordinated, This Cruella looks very ladylike and feminine.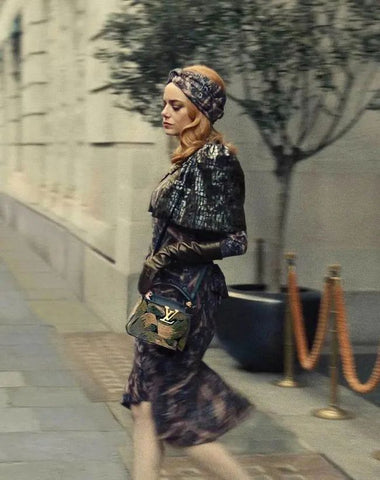 3.Cruella De Vil Old-fashioned Jacket
This is the old-fashioned jacket he wore when she first saw the clothing shop boss who became her friend and partner in the future. The front of the jacket is army green, the back is off-white, and various English letters are printed on it, Which fits well with his avant-garde mix& match, splicing, and collision wear as the main punk style.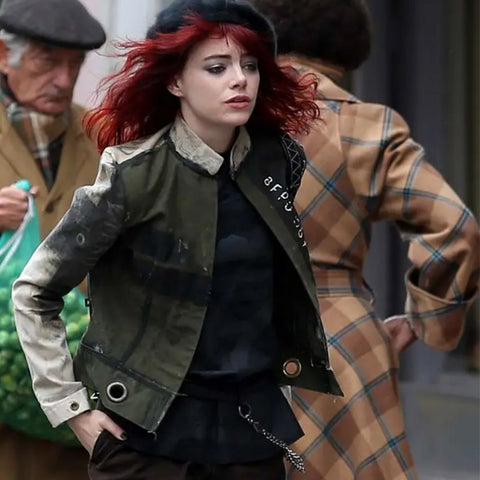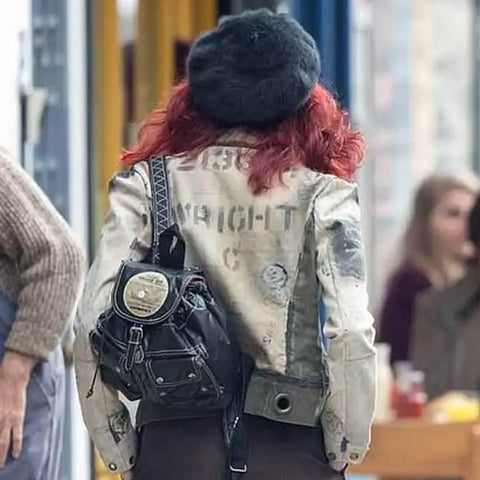 4.Cruella Leather Jacket
The scene appears the next morning after her dramatic debut at the black and white ball, Cruella wore a bright two-piece leather suit with a striking check pattern,which including a fitted jacket with fluffy shoulders and a smooth strip,A-line skirt, gloves and high-heeled boots decorated with tulle.
This suit makes the fusion with Cruella's previous frugal punk aesthetics and flamboyant gothic style,The black jacket is full of design, especially emphasizes the hard shoulder position of strength to reflect her attempt and report.
Many people think this Cruella Leather suit is also very suitable for daily wear, and it's not an exaggeration to wear it to work.
ACcosplay offers Cruella Deville costume for Women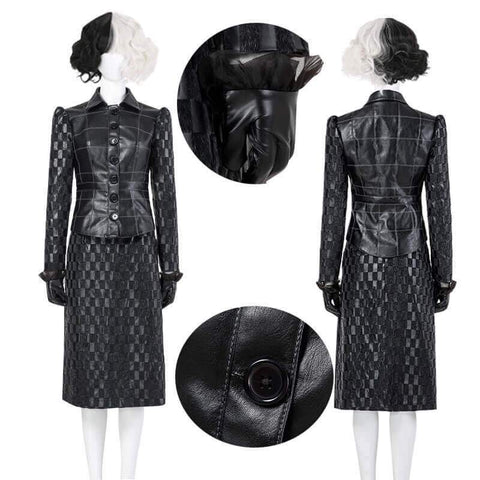 This Cruella De Vil uniform restores the one Cruella wearing. The quality is much better than the one as picture 2 showing below. This suit is made of leather, dyeing, spandex, and yarn. More Advanced garment draping makes the square lattice more prominent, which have a great sense of vogue.
Cruella Deville Cotume including:Top,Skirt,Gloves,Wigs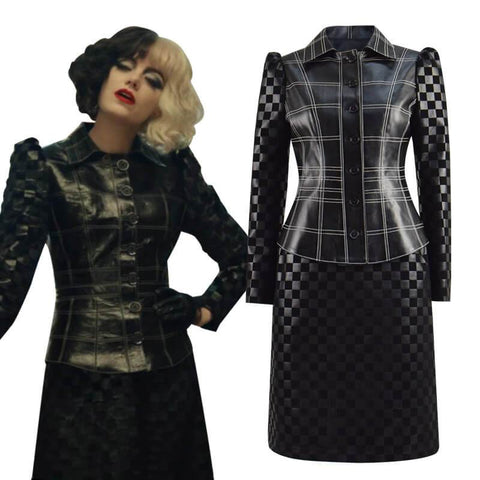 This set is a low-profile of the original version, using ordinary production technology, so the square lattice is not very prominent.
Cruella Deville Cotume including:Jacket,Skirt
5.Cruella De Vil Black Cloak
This scene heralds the coming of the final climax, which is asking the Baroness to make way for the new owner of the house, Cruella.
Cruella wore a cloak with neck appliques, a murderous look, and a domineering side leak. Sharp high heels, leather gloves, and crutches in his hand are all decorative objects in his image as a villain.
This Cruella De Ville Cloak has the feeling of a domineering female president, put it on, you are the queen.
Hurry up! own one and put it on.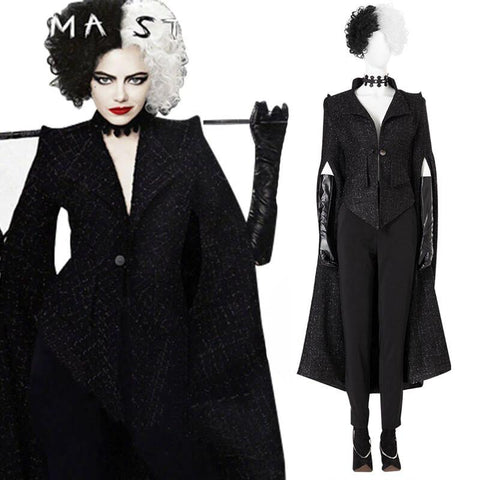 This
Cruella De Ville suit
is very suitable for the queen of the workplace. If you want to increase your position,this one is what you wanted. The costume uses silk satin and leather fabrics, and the three-dimensional tailoring can modify your body shape. If you like, you can click on the picture to get more details.
Costume Including:Coat, pants, shoes, gloves,necklace, wig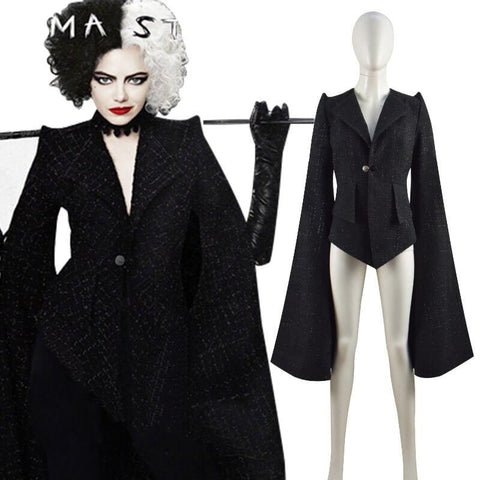 The fabric of this jacket is tweed, so the price is a bit cheaper. If your costume requirements are not particularly high, you can choose this one. For more details, please click on the picture.
Costume Including:Only Coat
Some people mentioned that Cruella plucked the skin of the Dalmatian because the Baroness and the media believed that Cruella made her coat with the Baroness Dalmatian leather. However, the character lacks elements of her love for fur in this movie. On the contrary, Cruella just likes fashion and does not mention fur,The movie does not show this part in any form.
This Cruella Dalmatian coat is also very unforgettable, wearing him makes Cruella look wild and elegant. The dress also commemorates the achievement of Cruella's original purpose.
The wild taste of this suit is too strong. The black and white contrast fur coat with wide collar, the asymmetrical design of the skirt, and the sharp high heels, the whole match makes people feel like the person in the costume is saying: I'm here to conquer you.
Do you want to be as cool as Cruella? Don't miss it, buy it and dress up yourself.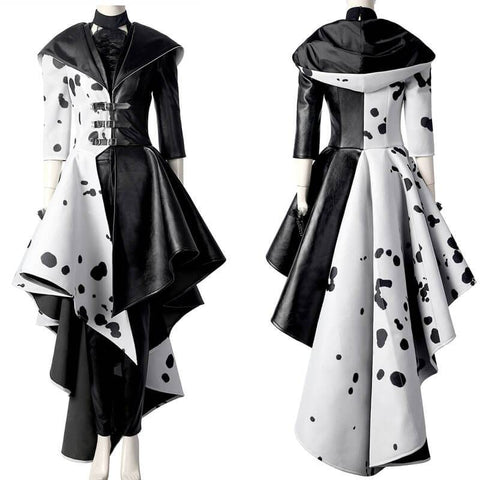 This set of costume is made by our factory, using a lot of fabrics like leather and polyester, the black spot pattern is more clear. This Cruella Dalmatian coat is suitable for any body tyle, Fat women will add some sense of wealth when wearing this cosplay costume, and thin people will show a charming and sexy wild taste.
Costume Including:Coat, Pants,Inner top,Gloves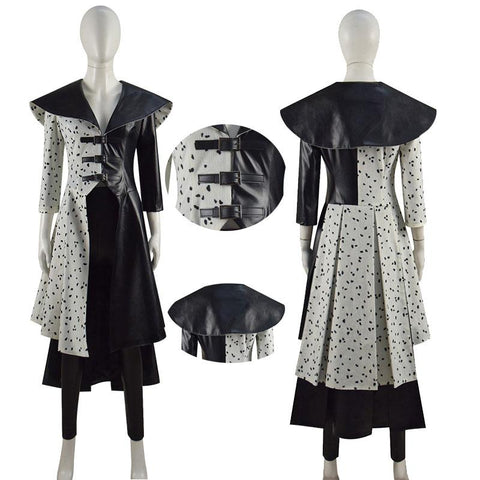 This 
Cruella Dalmatian coat
is a modified of the original version, which is more suitable for daily wear. The fabric is made of leather and polyester,and the cut is not as exaggerated as the original version. Moreover, this cosplay costume only contains coat and pants, so the price is cheaper.
Costume Including:Coat, Pants
7.Cruella De Vil Petal dress
This petal dress has a great visual impact.
Under the plan of Cruella's, her two thief friends lock the Baroness in the car.and then, Cruella climbed onto the roof of the car wearing combat boots, whose skirt covering most of the car, only appearing the Baroness panic and frightened Expressions. The Baroness is in a bad mood at this time: I should be under the car, not in the car. Haha.
This costume is a look from the punk neo-romantic period, inspired by the British punk fashion brand Bodymap.It is said that this dress is hand-stitched from five thousand petals. The upper body is a vintage gilded coat decorated with pins, chains, roses, and leaflets, which is a rebellious operation in which women wear male uniforms.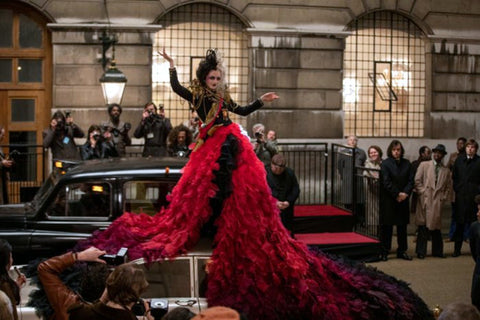 8.Cruella Garbage truck dress
One of Cruella's most incredible ways to play.
When the Baroness held another fashion event and was surrounded by media elites, Cruella fell out of a garbage truck. and then, she slapped the truck to let his partner drive, and the skirt slowly unfolded with the movement of the truck.
The dress is made of fabrics of various colors, and the upper part is a strapless corset, decorated with Newspaper elements, which has a messy beauty. Light yellow skirt, fluffy hair, one woman's trash may be another woman's skirt, this is one of the favorite costumes of the film actor Emma Stone and it is also the sexiest Cruella Deville costume.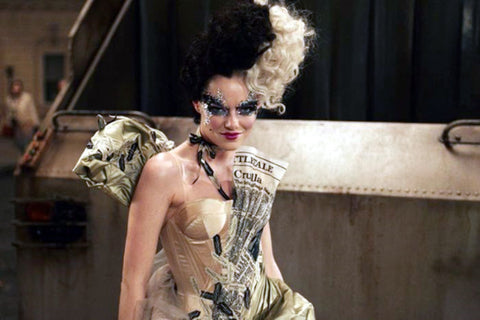 9.Black and White Cruella jacket
This scene appeared in Cruella's triumphant moment at the end of the movie. As Baroness Von Hellman gets arrested for Estella's murder, Cruella comes out of her car to claim her new mansion. Her outfit is symbolic, as she finally embraces and celebrates her dual nature. It's also a welcome nod to the character itself.
Cruella wears latex combined with another fabric once again, Black and white collision, which asymmetrical design is also a classic style of punk godmother, bright leather choice makes this dress shine.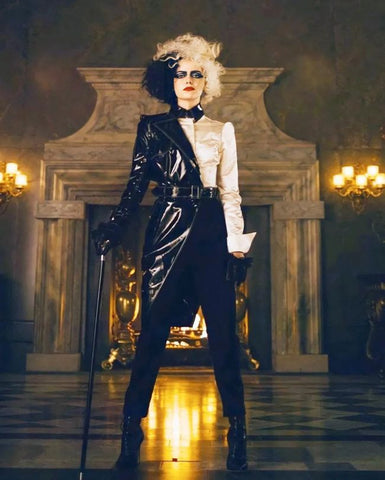 10.Cruella V-neck black robe
This is one scene at the last climax of the movie, Cruella appeared in front of the camera, wearing a V-neck dress and square-shoulder cloak. Of course, he also brought his unique and evil expression, which indicates that he would cause trouble. Cruella was indeed very scheming. He provided the guests with almost identical skirts so that It is not easy for the baroness to recognize him from the crowd.
The V-neck mopping black robe set off the sexy and tall Cruella. The cloak decorated with chains adds a sense of punk to the look. The tailoring of the clothing is very slim, worthy of the masterpiece of Beavan.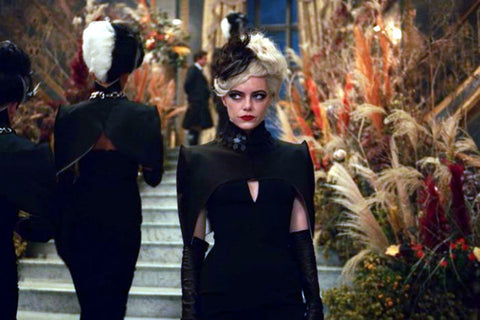 What do you think of Cruella Deville costume outfits?
The movie Cruella costume design has been nominated for the 10 best costume design Oscars,and the costume of the movie is designed by design master Jenny Beavan, who won two championships with The Show and Mad Max 4: Fury Road, she designed 47 sets of costumes for the heroine, each of which is amazing.
Which one of Cruella costume do you think fascinates you the most,Or which of these Cruella Deville inspired outfits will you be styling to your Cruella De Vil halloween costume carnival,Or even at fancy dress parties and graduation parties?
If you want to know more, you can take a look at our shop ACcosplay,We have a variety of selection of Cruella Deville costume Who's outfits that you are looking for and will love! Hurry up to buy now!