Resident Evil 4 Remake was full of cool costumes, in which Leon S. Kennedy, Ashley Graham, and even Ada look cooler than ever version.
Next, We'll show you every Resident Evil 4 Remake costume and accessory, so you can pick out your favorites.
1. Resident Evil 4 Remake Costume Main Character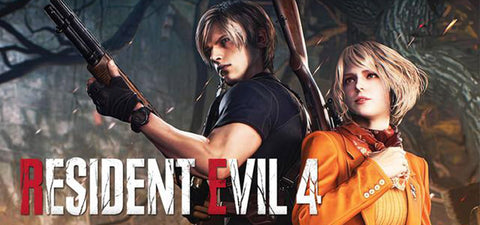 Ashley Resident Evil 4 Remake Costume
Ashley's new look is popular among the fans. she wears short-sleeve orange turtleneck, matching an orange blazer on the top, green plaid skirt presents her as much more well-dressed, which looks like the old money dress-up, she is the true daughter of a United States President. The overall outfit has some good detail, including the beautiful brooch pin on the left collar and a cozier scarf that feels more appropriate for the cold environment.
Ashley Resident Evil 4 Remake costume is suited for daily wearing, not only going to work but also attending the game convention, you can always keep it.
Leon Kennedy Costume
The game designer designed a smooth brown leather coat with a warm beige fur lining for Leon to make him adjust to the cold and rainy atmosphere of the rural Spanish town. In this RE4 remake alternative outfits, Leon wears his dark blue shirt and black pants, decorated with the tactical gear on his back, waist, and left leg.
This is his iconic getup and gets much appreciation. You can purchase Leon Kennedy costume as daily wear to have it on for the next Halloween celebration.
RE4 Remake Ada Wong Costume
In the Resident Evil 4 Remake game, King Ada appears wearing high-heeled knee-high leather boots and a red knit dress with a high collar, which is slightly different from the old image. Compared to her last appearance in the Resident Evil 2 remake, her face became rounder, her lips became thicker, and she added some European and American characteristics.
If you like Ada Wong costume sexy suit, why not add it to your wardrobe for your coming winter?
 2. The Goddess- Ada Wong, whose image is always changed
In each generation of Resident Evil, the image of Ada Wang is different, but the lack of fixed image characteristics does not lead to a weakening of the character's charm, but rather increases her popularity among the player community.
When he first appeared in Resident Evil 2, Ada Wong sexy outfit in a classic red sleeveless dress caught the player's eye.
In addition to restoring the classic red dress, Ada Wang also added a beige trench coat and wore sunglasses in Resident Evil 2 Remake.
In Resident Evil 4, Ada Wang dress is designed to be a high-slit cheongsam paired with a black collar, which is impressive.
The last appearance of Ada Wang is in the game plot of Resident Evil 6. The image of Ada Wang has undergone a significant change,  Her red sleeveless dress was replaced by a deep V-red jacket and black tight leather pants.
 3. Resident Evil 4 Remake Deluxe Edition
The deluxe version costumes of Resident Evil 4 Remake includes Leon Kennedy &Ashley Graham romantic suit, both in a white shirt and black pants style, with silver hair color on the head.
Leon Romantic Costume
These outfits make the characters look more like vampires than romantics. Leon romantic costume makes it seem as though the events of Resident Evil 4 are moving like a Shakespearean stage play. He gets extra tight black tights you can see male performers or dancers wear on the stage, a ruffled white shirt exposed sexy chest.
Ashley Romantic Costume
Ashley romantic suit is better the Leon's. her pants look like washed dark skinny jeans, The white blouse has a much more ruffled ruffle pattern that's complemented by a red gem necklace makes her more elegant.
Resident Evil 4 Remake Costumes are the most faithful recreation of the older version of the game. And the new version of the game not only keeps these but also improves these costumes.
Seen those beautiful Resident Evil 4 Remake costumes, Do you have any ideas for your next cosplay show? If you are someone who likes to represent and try to complete different game characters, so gorgeous costumes can add flavor while cosplaying.
What is your favorite Resident Evil 4 Remake Costume? Let me know about your resident evil 4 remake costume ideas.